Give Mike at searletech a call now to book your bike in for a
full service or to discuss your requirements or needs.
About searletech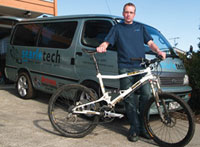 Micheal Searle
I started racing bikes from an early age and at national level. Have achieved good results in all fields of cycling.
My passion for bikes started at an early age. From working part-time in a bike shop while at college, I knew this was what I wanted to do. After working in a couple of bike shops around Kapiti and Wellington I decided to go it alone. Although there were a few bicycle shops around Wellington, there wasn't a mobile service.
searletech's professional bike repair service started in January 2007.
I have over 18 years in the bicycle trade, working within all fields from importing through to retail, but mainly specialising in the mechanics of the bicycle.